Data Science Degree Online
Graduating with your master's in data science can lead you toward a variety of professional opportunities
spanning several industrial sectors.
Chief Data Officer
Create policies for how your organization uses data. In addition to shaping big-picture data procedures, chief data officers are responsible for supervising analysts, computer programmers and their staff.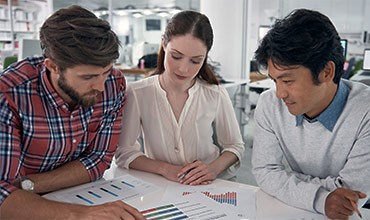 E-commerce Data Specialist
Both physical and online retailers collect data associated with purchases and consumers. Data analysts help retailers assess brand popularity, understand consumer shopping habits and make predictive product offerings, all while improving the overall consumer experience.
Social Media Data Analyst
Data analysts who dedicate themselves to working in the social media realm track how big data is consumed and shared after it's generated. They collect volumes of comments, pictures and videos from social networking sites around the world. Data professionals heavily scrutinize the data to help brands create more targeted ads and improve their online customer service.